Realme GT Neo 2 coming to Europe, alongside Realme Pad and more; plus Realme signs up for ECO rating scheme
Next week, Realme adds yet more new phones to its portfolio – this time a new mid-range smartphone with top-spec features that will particularly appeal to gamers. In addition, the company will launch more phones and a tablet.
The Realme GT Neo 2 has already gone on sale in China, and comes with a Snapdragon 870 5G chipset, 6.62-inch 120Hz AMOLED display with 1300 nits peak brightness, stereo sound, 64-megapixel primary camera, and a 5,000mAh battery with 65W fast charging.
Available in a choice of colours in other markets, it remains to be seen when the phone is officially launched in Europe what colours we will get – and the exact pricing.
More information
Press Release
8th November 2021, London, UK – realme, the fastest-growing smartphone brand and the world's top 6 smartphone brand, will introduce the realme GT NEO 2 on 15th November in Europe.
The realme GT series is realme's flagship series, featuring innovative technology and aesthetic design for technology enthusiasts and admirers of good design. The realme GT NEO series has been born out of an understanding that combining top specifications with a well-polished flagship experience unites the best aspect for a modern smartphone.
Providing a comprehensive flagship experience in this segment is paramount to realme's mission of bridging the gap between high-end smartphones and the every-day user. This is building on the GT NEO 2 already being a success in the Chinese market, where it has achieved the milestone of one million sales.
Positioned to be the flagship killer of realme GT series, realme GT NEO 2 packs Qualcomm® Snapdragon™ 8 series mobile platform, an unprecedented cooling system, ultra-high touch sampling rate, and massive battery life. Design has always been an essential part of the realme GT series, and this time, realme GT NEO 2 comes with a mind-blowing color – NEO Green to present the concept of high-tech and vitality.
On top of realme GT NEO 2, more surprises are to come; realme will also launch their first tablet realme pad, budget phones C21Y and C25Y at the same date. 
Eco Rating labelling for Smartphones
Also in the news is Realme joining forces with operators to provide an ECO rating label – as part of a drive to develop environmentally friendly smartphones that reduce CO2 emissions.
Press Release
realme joins forces with top operators to provide ECO Rating labelling for smartphones realme endeavors to develop eco-friendly smartphones that will tremendously reduce CO2 emissions 4th November 2021 – London, UK – Today, realme, the world's fastest-growing smartphone brand and top 5 Android smartphone brand globally, furthers its commitment and vision of being a sustainable company that contributes to a better world, as the realme 8 5G and 8i smartphones have been recognised by the cross-industry Eco Rating labelling scheme.
Eco Rating has been created jointly by five of Europe's leading mobile operators to launch the pan-industry labelling scheme – Deutsche Telekom, Orange, Telefónica (operating under the O2 and Movistar brands), Telia Company and Vodafone. By evaluating the environmental impact of the entire process of production, transportation, use and disposal of mobile phones, Eco Rating helps customers to make informed and sustainable choices, providing an overall score from 1 to 100. The closer the score is to 100, the better the sustainability of the device.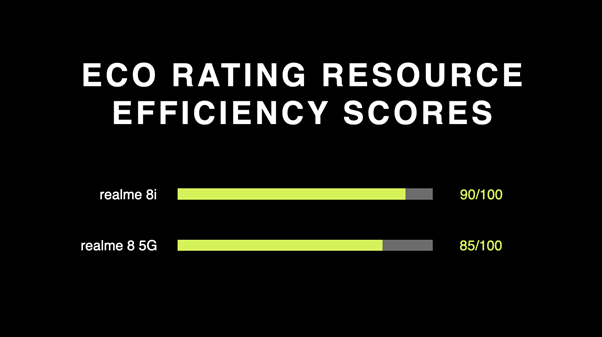 The realme 8 5G and 8i have both been awarded high scores of 76/100 and 80/100, respectively. Both devices achieved similarly high results in the key area of resource efficiency, with the 8 5G being awarded a score of 85/100 and the 8i 90/100, representing a low impact on the scarcity of resources. Commenting on the new ratings, Madhav Sheth, Vice President of realme, President of realme International Business Group, CEO of realme Europe, said, "As an industry, we have a commitment towards a better future, and at realme, being transparent with our users via the Eco Rating labelling scheme is a positive step towards realising that future. We at realme stand by this with the new 8 5G and 8i ratings, as well as our E-Waste Management Program which incentivises the safe recycling of electronic waste and strive to launch the most eco-friendly products in the near future."
"In line with a series of products we have launched, including smartphones, earphones, and tablets, we proactively advocate the combination of technology and environment, Going and Living Green." "Simultaneously, we are developing a unique eco-friendly smartphone, with endeavours to tremendously reduce CO2 emissions. The product will arrive in Europe in the near future."